Damaged or decayed teeth can cause discomfort, interfere with chewing and speaking, and make you feel self-conscious about your smile.
At Demille MacKay Dental in West Valley City, UT, we can restore your smile with same-day dental crowns.
Learn how our team of dental professionals can strengthen a weakened tooth with a durable custom dental crown.
"Nothing but exceptional service."
Read Our Outstanding 5-Star Reviews
Friendly, capable and quality staff. I love the fact that I dont feel like I am buying a used car every time I am in. They present themselves professionally and are efficient in getting the job done.
View on Google
These guys are simply the best dental practice I have ever been to. My family has been here several times and had nothing but exceptional service each time. If you are looking for experienced quality work with the most current equipment and methods, this is the place.
View on Google
​Why Patients in West Valley City Turn to Us
For Their Dental Needs
Our
family-friendly dentistry practice
provides comprehensive treatments. Patients of all ages can take advantage of our services to enjoy the benefits of excellent oral health and a beautiful smile. More reasons to choose DeMille MacKay Dental for your family's dental care include:
Focus on Patients
Our team is dedicated to building long-term relationships built on trust with each of our patients. We will take the time to discuss every aspect of your treatment, from the condition impacting the health or appearance of your smile to the pros and cons of each treatment option.
Expertise
The extensive training and experience of each member of our team are second-to-none. Our staff regularly participates in continuing education opportunities to provide you with the most innovative techniques and treatments in the field of dentistry.
Technology
We use advanced tools at every step of treatment to ensure you receive the best possible care. Digital imaging allows us to pinpoint dental issues before they develop into bigger problems and digital impressions provide restorations that fit perfectly and offer world-class cosmetic results.
Ready to Improve Your Oral Health?
Request an Appointment Today
If you are suffering from a compromised tooth, the dentists at DeMille MacKay Dental can restore your smile with a same-day dental crown.
Our advanced dentistry practice
includes an in-office
CEREC system
that allows our dentists to place a dental crown that will look and function like a natural tooth in a single appointment. We offer traditional permanent porcelain, ceramic, and zirconia crowns crafted by master ceramicists for patients seeking the most lifelike results.
Our office include team members who are fluent in Spanish to help patients who are more comfortable speaking in their mother language get the first-class dental care they deserve. Whatever your dental needs and goals, our team is here to help you achieve a healthy smile. To request an appointment, you can
reach out to us
by completing the convenient form below:
"I will never go anywhere else."
Hear From More Happy Patients
I have visited several dentists over the years and Dr Chris DeMille is by far the best. After dealing chronic pain in one one tooth for several year that a previous dentist could never fix Dr DeMille was able to diagnose and fix the problem on the first visit. Not only is Dr Demille excellent at what he does but he is genuine, honest, and caring person. I will never go anywhere else.
View on Google
Honestly, words cannot express my appreciation for Drs Chris and Parker DeMille. Both have come to my rescue on more than one occasion. Dr Chris bent over backwards to get me in quickly, and their state of the art equipment and expertise got me out of the office in no time at all with a perfect permanent crown. No temporary. One short visit. It was awesome. Add to that the fact that you won't find two nicer people - anywhere.
View on Google
​CEREC Same-Day Dental Crowns
Restore Your Smile in a Single Appointment
Our West Valley City dentists will gladly develop a treatment plan to meet your individual dental care goals. While a traditional crown can offer the best aesthetic results, it can also take a couple of weeks and includes the placement of a bulky temporary crown. Skip the multiple office visits and the temporary crown with a same-day permanent crown thanks to our in-office CEREC system.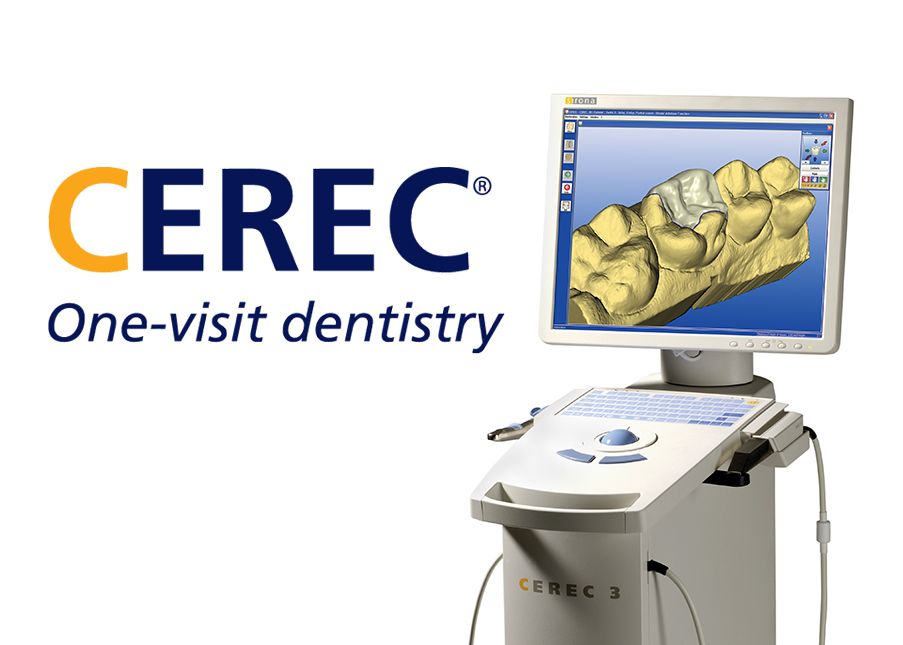 The Dental Crown Treatment Timeline
The dental crown process at
our West Valley City practice
can differ based on several factors, including the material from which your crown is made, but here's a step-by-step overview of what you can generally expect:
Whether you choose a zirconia, PFM, or all-ceramic crown, it can be precisely customized to have the best look, feel, and fit for your smile.
Do You Need More Than Crowns?
Dental crowns are an excellent choice if you want to improve the condition of a compromised tooth, but what if you're looking for a more comprehensive smile transformation? A smile makeover or full mouth reconstruction might be right for you.
Full mouth reconstruction is a custom plan that addresses all of your unique restorative dental needs in one comprehensive treatment, while a smile makeover can enhance the appearance of your entire smile. Because dental crowns offer such high-quality restorative and cosmetic benefits, they are a frequent addition to both types of treatment plans.
Our dentists will help you choose the procedures that will realize your individual goals and meet your needs. To discuss your treatment options at our West Valley City, UT, practice, contact us online or call:
Affordable Dental Crowns

Insurance Accepted and Flexible Financing Available
To help patients receive affordable care, DeMille Mackay Dental accepts most major dental insurance providers. Our friendly office staff will be glad to fill out all the required paperwork with your provider so you can get the most out of your dental benefits.
For patients without dental insurance or who are interested in managing their out-of-pocket expenses, we accept flexible financing through CareCredit®. A credit card that specializes in medical and dental expenses, CareCredit offers monthly payment plans for up to 60 months to enable you to manage your budget while receiving the care you need.
We will be glad to answer any questions you may have regarding dental insurance coverage and financing options either online or during your next visit to our West Valley City office.
"I've never had better luck at a dentist's office."
"It's always a good experience when I go to MacKay DeMille dental! The office is extremely clean and beautiful! The front desk team is very sharp and I rarely have to wait more than 5 minutes to be seen. Dr. Chris DeMille is so talented with multiple different certificates to do things that specialists typically do such as endodontist work, orthodontist, implants and full reconstruction. I wish I could give a rating higher than 5 stars!"
Natalie Warner