Conservative Dental Bonding Is a Quick and Affordable Way to Restore Your Smile
If you have cracked or chipped teeth, dental bonding may be a simple but highly effective solution. Dr. Christopher DeMille or Dr. Parker DeMille can conceal such blemishes with naturally colored composite resin. Dental bonding can also improve other minor to moderate cosmetic issues, including slight misalignment. Our dentists can complete dental bonding in a matter of minutes, and this affordable treatment costs significantly less than a full tooth restoration. Furthermore, it is a conservative option that generally does not require alteration of your teeth. At DeMille MacKay Dental, we will conduct a complete consultation to determine your eligibility for dental bonding. We will also collaborate with you as we design your treatment, and we can explain the most effective ways to care for your teeth following the procedure.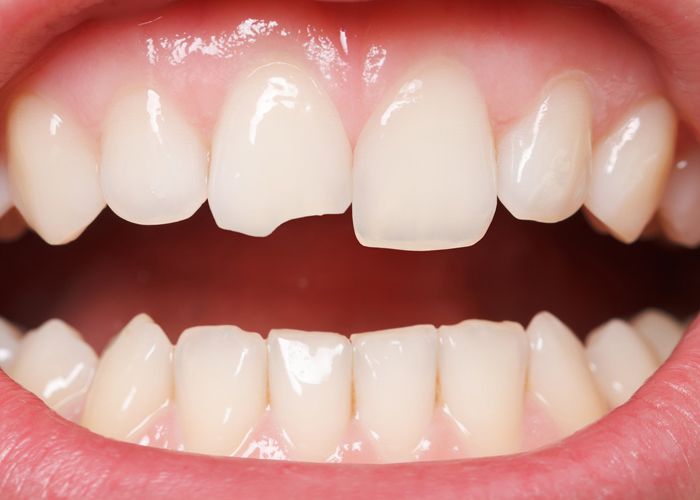 Are You a Dental Bonding Candidate?
Dental bonding has a diverse range of applications. Therefore, it may be appropriate if you are suffering from:
One or more cracked or chipped teeth
Small gaps between teeth
Misshapen, worn, or disproportionately small teeth
Severe stains, particularly internal discoloration
Bonding is considered a cosmetic treatment, and it is not appropriate for more pronounced structural damage. In these instances, you may need a larger restoration, such as a dental crown. In particularly severe cases, we may need to extract the tooth and replace it with a dental implant. Bonding and porcelain veneers can address many of the same concerns. Generally, however, veneers are a better option for more noticeably compromised teeth. During your consultation, Dr. Chris DeMille or Dr. Parker DeMille can assess your smile and make an honest treatment recommendation.
The Dental Bonding Procedure
We always want you to play an active role in your care, and we will include you in the treatment planning process. We will inquire about your goals for bonding, and we can adjust your treatment plan until you are completely satisfied. In addition to determining where to apply the composite, your dentist will choose a color that matches your smile as closely as possible.
Our dentists can complete dental bonding in a matter of minutes, and this affordable treatment costs significantly less than a full tooth restoration.
Dental bonding requires little prep work. Your practitioner will simply clean your teeth and apply a mild solution to their surface. This solution will lightly etch your teeth, creating microscopic fissures that will increase the surface area and provide a stronger bond. Your dentist will then place the composite on your teeth, using it to fill in chips and cracks and to cover up minor blemishes. If needed, he can extend the material slightly beyond the edges of your teeth to address erosion, small gaps, and structural irregularities. With our doctors' skill and artistry, they can achieve a smooth and natural-looking appearance. After achieving the desired effects, your dentist will shine a special curing light to harden the composite. A final polish will ensure a natural-looking sparkle that will harmonize with the rest of your smile.
What Are the Benefits of Dental Bonding?
We offer a diverse range of cosmetic treatments, all with their own advantages. Dental bonding, in particular, provides a number of important benefits:
The treatment can correct a variety of problems, including multiple cosmetic issues at once.
Bonding is conservative. It requires no enamel removal or other alteration of your teeth. Therefore, it is reversible, and we can complete the process in a single day.
Bonding is very affordable. Although composite is not quite as durable as porcelain, you can easily fit future touch-ups into your budget.
This treatment is typically more appropriate if you have sustained significant tooth erosion and cannot undergo the preparatory process for veneers.
It is very easy to care for bonding. You simply need to maintain normal dental hygiene, including brushing, flossing, and routine dental visits. You should also avoid putting unnecessary pressure on your teeth by biting your nails, chewing ice, or engaging in similar activities.
Contact DeMille MacKay Dental Today
To find out if dental bonding is the most appropriate treatment for you, schedule an appointment with Dr. Chris DeMille or Dr. Parker DeMille. You can contact us online or call us at (801) 969-3025.